Jo Turner
Physiotherapist, Pilates Instructor and Clinic Director
I have been fanatical about sport and all types of exercise since I was a child. Physiotherapy was an obvious career choice for me and being able to teach movement alongside hands-on treatment.
Matt Sherrington
Physiotherapist and Clinic Director
I am passionate about working with people to overcome their problems and pain. I have learnt that each person is beautifully unique and as such, they need to be listened to and observed.
Karla Howes
Reception team leader
My role as reception team leader is very rewarding when I hear or see patients leaving the clinic that bit better off than when they first contacted us.
Customers are always at the heart of every job I do
Clare Hornby
Physiotherapist and Pilates Instructor
I have been working as a chartered physiotherapist for fourteen years since qualifying in 2003. Over that time I have been lucky enough to work in a variety of clinical settings which has given me excellent insight.
Ed Voss
Physiotherapist and Pilates Instructor
Becoming a Physiotherapist has always been something that was on my radar but it has taken me a little while to get here. I developed a fascination with the workings of the human body at school and I briefly flirted with the idea of following in my fathers' footsteps and pursuing a career in medicine.
Maxine Mellerup
Physiotherapist and Pilates Instructor
Growing up, I was an injury prone sporty child who also had scoliosis of the spine so I had a lot of contact with Physiotherapists, especially at Courtyard Clinic! I was always very interested in the human body and amazed by the work a physio could do to fix us so it became my aim to become one.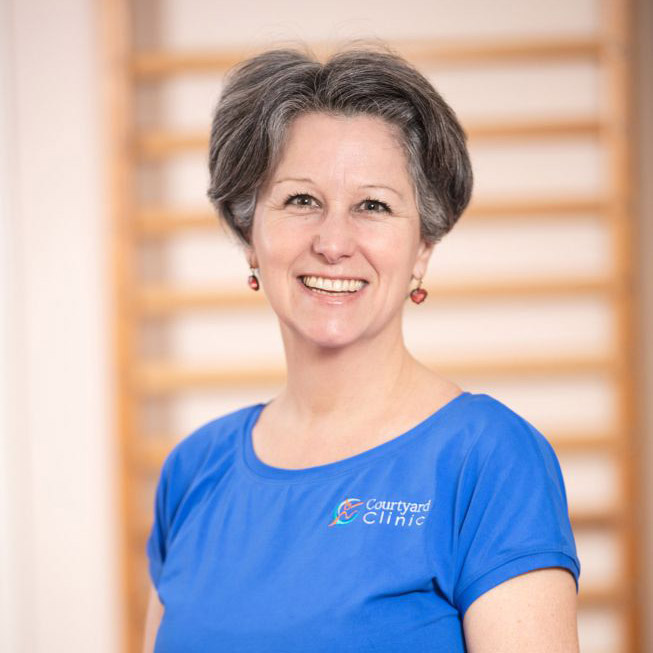 Giulia Holland
Massage Therapist
Twenty years experience working one-to-one with so many different personalities and loving the diversity and beauty of individuals, I have strengthened my intuitive abilities. This has been especially helped by practicing Chi Gung.
Jennifer Jones
Complementary Therapist
There's only one word to describe me and that's 'workaholic', I have to be reminded to take some time off. I've always been a caring person who wants to make people feel better. In 2009 I started working at the Courtyard Clinic and have loved every minute.
Helen Cann
Physiotherapist and Pilates Instructor
As a keen horse rider as a child my initial exposure to physiotherapy was for a horse, which required equine physiotherapy to help her sore back; this inspired me to become a physiotherapist.
Ian Thomas
Dietician
Nutrition and the psychology of health behaviours fascinates me. I enjoy learning about pathology and how the body responds to food. My main satisfaction comes from helping people overcome barriers to health, improving their quality of life.
Joanne Beeston
Physiotherapist and Pilates Instructor
As a child who enjoyed sport and a teenager who wanted a career in a caring profession, physiotherapy was the obvious choice.  It is a career I still enjoy as I continue to learn more and more.
Katarina Sveder-Cain
Chiropactror
It is important to me to educate my patients to help them understand what is wrong and how we can make it better with a combined approach of treatments, stretches, exercise and general advice concerning posture, sports and work.
Karla Howes
Clinical Hypnotherapist
After I sought the help of a Hypnotherapist for my phobia of heights (it worked!) I really wanted to start helping people with various issues that they want help with.  So I trained at the Clifton Practice in Bristol and got my Hypnotherapy Practitioners Diploma. 
Mary-Beth Staddon
Sport and Therapeutic Massage Therapist
I absolutely love what I do, am inquisitive by nature and massage gives me purpose. I enjoy coming to work every day knowing that I am helping people have the best quality of life possible. Being the token Canadian on the Courtyard team I talk a bit funny, am very outgoing, bubbly and am always smiling!
Moira de Groot
Foot Health Practitioner
I have always been interested in health and well-being. With an ageing population, many people suffering from obesity and a general lack of foot health professionals, my calling was to help people with their feet. I  have qualified through the College of Foot Health.
Philippa Sawtell
Physiotherapist and Pilates Instructor (currently on maternity leave April 2023)
At the age of seven, without knowing it, my passion for Physiotherapy began, after falling off a family horse and fracturing my elbow. I  completed a BSc in Biological Sciences and then Physiotherapy degree at the University of Wales.
Rich Lee
Physiotherapy
I'm very passionate about physiotherapy generally and believe that comes across in my approach. I believe that all practise should be evidence based from up-to-date research so the care provided is effective.
Nicola Travlos
Physiotherapist and Pilates Instructor
I played sport to a high level at school in Zimbabwe and this, along with my fascination with the anatomy and biomechanics of the human body, led me to study physiotherapy at the University of Cape town. I qualified as an aPPi Pilates instructor in 2012 and my understanding of exercise and human movement has grown.
Ray Fielding
Physiotherapist
I always wanted to be a physiotherapist. It took me a few years and a roundabout route to become one but I really do think it is a wonderful job.
Being able to help people diagnose and treat their conditions is a true privilege.
Reception Team
Reception
Our Reception Team is made up of 6 Receptionists and 3 admin staff, who are the first point of contact for all our Patients, Therapists, Suppliers, Contractors and those seeking directions when on route on the Cotswold Way! Our Team has a combined service of over 30 years.
Stephanie Milne
Physiotherapist
I am very much a hands on therapist and with my listening skills I seek to achieve a solution to your pain. Treating young and less young, sporting and less active, I am never happier than when you are back to doing what you do best.
Sally Webb
Acupuncture Therapist
Acupuncture is a system of healing which has been practised in China and other Eastern countries for thousands of years. Although often described as a means of pain relief, it is in fact used to treat people with a wide range of illnesses.
Zoe Stimpson
Physiotherapist and Pilates Instructor
Since leaving University I have been a Physio working in several different fields and meeting a wide variety of people. Working for the NHS in Taunton, I met the Queen when she opened our new department which had a Hydrotherapy pool. I began my love of Hydrotherapy whilst a student in Bath.
Vicky Baker
Physiotherapist
Since joining the Courtyard Clinic I have realised that although it is important to specialise it is also important to be able to transfer your skills and therefore my aim for my future progression.
Kirsty Thompson
Yoga Instructor
I believe in starting yoga as you are, where you are. Yoga is for everybody and I am passionate about holding space for everyone to practice in a safe, supportive and comfortable environment.
Rob Hill
Podiatrist
I feel very lucky being part of such a wonderfully talented team working within the Courtyard Clinic, with the array of specialities, experience and dedication it's a great place to both work and be a patient.
I belive that our feet are our foundation and will therefore dictate the position of bones and joints upwards in the body.
Tom Johnson
Injury Rehabilitation
Playing rugby from a young age having picked up several injuries developed my interest in the rehabilitation process. This has evolved into a passion for helping others recover from injury and enhance their performance moving forwards.
Holly Griffiths
Chiropractor
I am registered as a member of the General Chiropractic Council and the British Chiropractic Association. I absolutely love being a chiropractor – it is a pleasure to help people from all walks of life and with various different musculoskeletal issues.
Susie Matthews
Yoga Teacher
I like to combine traditional Hatha, Hatha flow, somatics, meditation and breathwork. I'm also mindful and intrigued about how modern science is changing the way we approach moving our bodies and to explore ways we can build strength yet tune in to find softness inside.
Here's What Our Clients Think of Us
Ready to Make a Change?
Making that first appointment is the most important part. If you're not quite sure what you need don't worry, give us a call or send an email. Our job is to help you find the best way forward with the most appropriate treatment plan or class for you.